Cupertino CA AC Repair | Trusted Cooling Unit Replacements
When your home climate system isn't working properly, you need to know you have a trusted contractor to get you back up and running quickly. That's why at Fuse HVAC & Appliance Repair, we focus on providing quality same-day service from the most trusted technicians in the business. We know when your heating and cooling system goes down, you want it repaired – simply, quickly, and correctly. That's what we're here for.
Our technicians receive on-going training twice a month to keep them up to date on all the latest developments and technology in order to make sure our customers receive the fastest and most knowledgeable quality service around. We want you to know you are in good hands when working with us, so we also offer one of the area's best warranties for both our products and our service. We take your trust seriously and work tirelessly to maintain the trusted relationships we've built within the community over the years.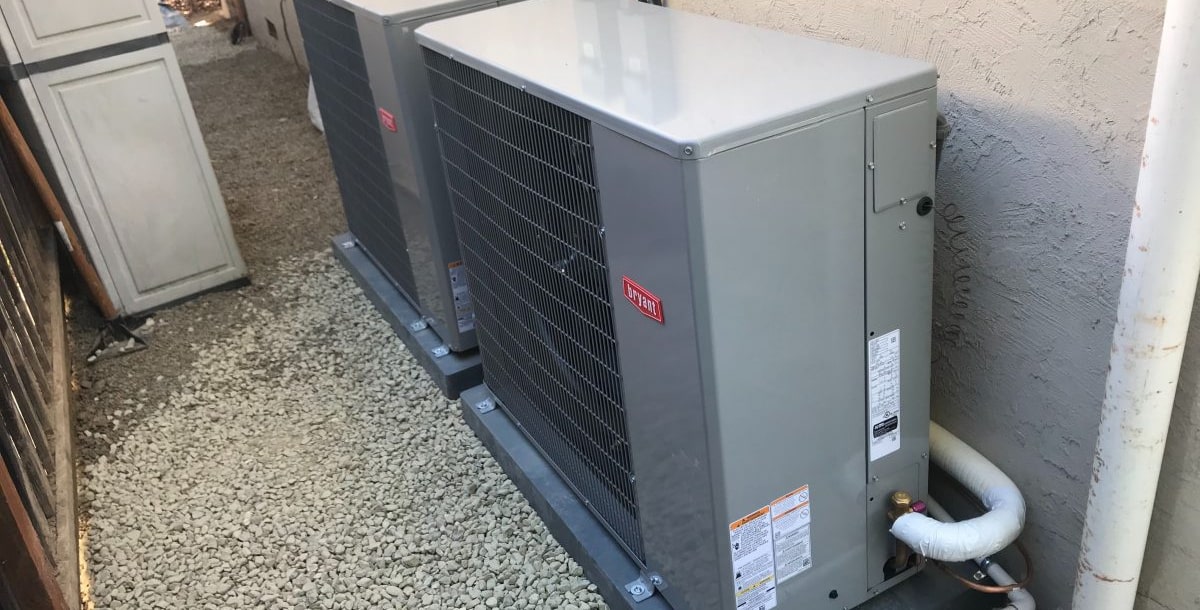 Air Conditioning Installation and Maintenance Service Near You
If you're looking for a reliable HVAC contractor to install, repair, or replace an AC system in your home, you likely have a lot of questions. How do you know you're hiring a quality technician? Are you sure you're getting the best pricing for service and equipment? Knowing what to ask when researching professional contractors, as well as what to look for, can help you to simplify the process exponentially.
Look for certifications and licenses. You'll want to make sure any professional HVAC technician is covered by proper licenses, insurance, and certifications before hiring them for any job. Most legitimate contractors will have this information readily available.
On-going training. Make sure any repair or installation professional you choose is current with the latest trends and technologies to ensure you're getting the most accurate service available. Look for professionals who provide regular routine training sessions for their technicians.
Check what others say. Finding out what previous clients have to say about a particular heating and cooling technician's service can help you find one that is truly qualified and will offer the best experience overall. Check out online reviews and ratings to see how any potential contractor stacks up against the competition in the area.
Since the summers in this area can be brutal, having an efficient air conditioning system is a must. The hot weather can seem to last forever when you're suffering from the heat, and this is why it's important that you make sure your cooling system is always working properly.
If your air conditioning system isn't working as it should, it may be time for you to purchase one that's new. Figuring out if you need to replace the air conditioner you have with a newer model isn't difficult when you know what to look for.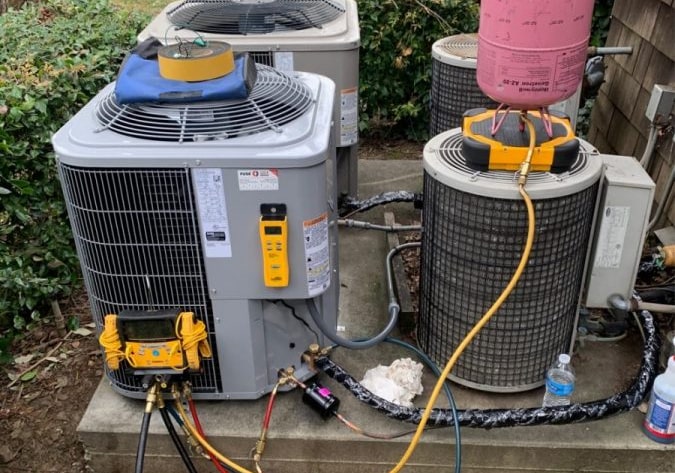 24 Hour AC Repairs | Trusted Cooling Unit Services
Our technicians are trained to not only be the most knowledgeable and experienced in the business but also to provide the best customer service around. We care about our community and strive to offer the best heating and cooling experience in the area by building lasting and trusted relationships with our clients.
After years in the business, we have earned a solid 5-star rating and glowing reviews from our previous clients – a feat we are supremely proud of! We look forward to continuing to build on these relationships by offering fast, knowledgeable HVAC expertise and service on every project we are called to.
Cooling Services:
San Jose AC Repair | Fremont AC Repair | Mountain View AC Repair | Milpitas AC Repair | Palo Alto AC Repair | Cupertino AC Repair |  Newark AC Repair | Campbell AC Repair | Menlo Park AC Repair | Los Gatos AC Repair | Los Altos AC Repair | Santa Clara AC Repair | Sunnyvale AC Repair | San Jose Commercial HVAC | San Jose Ductwork Installation
Heating Services:
San Jose Furnace Repair | Fremont Furnace Repair | Mountain View Furnace Repair | Milpitas Furnace Repair | Palo Alto Furnace Repair | Cupertino Furnace Repair | Newark Furnace Repair | Campbell Furnace Repair | Menlo Park Furnace Repair | Los Gatos Furnace Repair | Los Altos Furnace Repair | Santa Clara Furnace Repair | Sunnyvale Furnace Repair | San Jose Water Heater Repair | Fremont Water Heater Repair | Mountain View Water Heater Repair | Milpitas Water Heater Repair | Palo Alto Water Heater Repair | Cupertino Water Heater Repair |Newark Water Heater Repair | Campbell Water Heater Repair | Menlo Park Water Heater Repair | Los Gatos Water Heater Repair | Los Altos Water Heater Repair | Santa Clara Water Heater Repair | Sunnyvale Water Heater Repair
Other Services:
San Jose Appliance Repair | San Jose Commercial HVAC | San Jose Plumbing Repair | San Jose Solar Panel Installation | San Jose Refrigerator Repair |  San Jose Samsung Appliance Repair | San Jose Electric Vehicle Charger Installation | San Jose Electrician | San Jose Drain Cleaning | San Jose Bryant Factory Authorized Dealer | San Jose Mitsubishi Factory Authorized Dealer | San Jose Carrier Factory Authorized Dealer | San Jose Trane Factory Authorized Dealer | San Jose Lennox Factory Authorized Dealer | San Jose Goodman Factory Authorized Dealer | San Jose Fujitsu Factory Authorized Dealer | San Jose Airtemp Factory Authorized Dealer | Fremont Appliance Repair | Fremont Commercial HVAC Repair | Fremont Plumbing Repair | Fremont Solar Panel Installation | Fremont Refrigerator Repair | Fremont Washing Machine Repair | Fremont Samsung Appliance Repair | Fremont Electric Vehicle Charger Installation | Fremont Electrician | Fremont Drain Cleaning | Mountain View Appliance Repair | Mountain View Commercial HVAC Repair | Mountain View Plumbing Repair | Mountain View Solar Panel Installation | Mountain View Refrigerator Repair | Mountain View Washing Machine Repair | Mountain View Samsung Appliance Repair | Mountain View Electric Vehicle Charger Installation | Mountain View Electrician | Mountain View Drain Cleaning | Milpitas Appliance Repair | Milpitas Commercial HVAC Repair | Milpitas Plumbing Repair | Milpitas Solar Panel Installation | Milpitas Refrigerator Repair | Milpitas Washing Machine Repair | Milpitas Samsung Appliance Repair | Milpitas Electric Vehicle Charger Installation | Milpitas Electrician | Milpitas Drain Cleaning | Palo Alto Appliance Repair | Palo Alto Commercial HVAC Repair | Palo Alto Plumbing Repair | Palo Alto Solar Panel Installation | Palo Alto Refrigerator Repair | Palo Alto Washing Machine Repair | Palo Alto Samsung Appliance Repair | Palo Alto Electric Vehicle Charger Installation | Palo Alto Electrician | Palo Alto Drain Cleaning | Cupertino Appliance Repair | Cupertino Commercial HVAC Repair | Cupertino Plumbing Repair | Cupertino Solar Panel Installation | Cupertino Refrigerator Repair | Cupertino Washing Machine Repair | Cupertino Samsung Appliance Repair | Cupertino Electric Vehicle Charger Installation | Cupertino Electrician | Cupertino Drain Cleaning |Gilroy Solar Panel Installation | Newark Appliance Repair | Newark Commercial HVAC Repair | Newark Plumbing Repair | Newark Solar Panel Installation | Newark Refrigerator Repair | Newark Washing Machine Repair | Newark Samsung Appliance Repair | Newark Electric Vehicle Charger Installation | Newark Electrician | Newark Drain Cleaning | Morgan Hill Solar Panel Installation | Campbell Appliance Repair | Campbell Commercial HVAC Repair | Campbell Plumbing Repair | Campbell Solar Panel Installation | Campbell Refrigerator Repair | Campbell Washing Machine Repair | Campbell Samsung Appliance Repair | Campbell Electric Vehicle Charger Installation | Campbell Electrician | Campbell Drain Cleaning | Menlo Park Appliance Repair | Menlo Park Commercial HVAC Repair | Menlo Park Plumbing Repair | Menlo Park Solar Panel Installation | Menlo Park Refrigerator Repair | Menlo Park Washing Machine Repair | Menlo Park Samsung Appliance Repair | Menlo Park Electric Vehicle Charger Installation | Menlo Park Electrician | Menlo Park Drain Cleaning | Los Gatos Appliance Repair | Los Gatos Commercial HVAC Repair | Los Gatos Plumbing Repair | Los Gatos Solar Panel Installation | Los Gatos Refrigerator Repair | Los Gatos Washing Machine Repair | Los Gatos Samsung Appliance Repair | Los Gatos Electric Vehicle Charger Installation | Los Gatos Electrician | Los Gatos Drain Cleaning | Los Altos Appliance Repair | Los Altos Commercial HVAC Repair | Los Altos Plumbing Repair | Los Altos Solar Panel Installation | Los Altos Refrigerator Repair | Los Altos Washing Machine Repair | Los Altos Samsung Appliance Repair | Los Altos Electric Vehicle Charger Installation | Los Altos Electrician | Los Altos Drain Cleaning | Santa Clara Appliance Repair | Santa Clara Commercial HVAC Repair | Santa Clara Plumbing Repair | Santa Clara Solar Panel Installation | Santa Clara Refrigerator Repair | Santa Clara Washing Machine Repair | Santa Clara Samsung Appliance Repair | Santa Clara Electric Vehicle Charger Installation | Santa Clara Electrician | Santa Clara Drain Cleaning | Sunnyvale Appliance Repair | Sunnyvale Commercial HVAC Repair | Sunnyvale Plumbing Repair | Sunnyvale Solar Panel Installation | Sunnyvale Refrigerator Repair | Sunnyvale Washing Machine Repair | Sunnyvale Samsung Appliance Repair | Sunnyvale Electric Vehicle Charger Installation | Sunnyvale Electrician | Sunnyvale Drain Cleaning