Rooftop Package Unit Installation in San Jose, California
Advantages of Rooftop Units in San Jose, California:
Many Rooftop units are flexible and are modular. So the roof allows a lot of room for systems to be worked on or changed over. Almost all Rooftop units are modular. So they can be changed out and upgraded to suit the building they are operating on.
Most of the HVAC equipment required to operate can be an eyesore. Moreover buildings are designed with many characteristics and features that show off the beauty of the architectural design. So if the HVAC equipment needs to be installed in front of the building this could ruin the attended architectural design.
Fuse HVAC, Refrigeration, Electrical & Plumbing will help you with installation of Rooftop Package Unit.
Rooftop Package Unit Installation
By installing on building roof, the mechanical equipment has less of a chance of being damaged by people. Routine maintenance and operations may easily damage the equipment and could be expensive to repair.
Many buildings that require rooftop units may lack the required space for the mechanical equipment. The equipment may be loud and may disrupt the people in the building.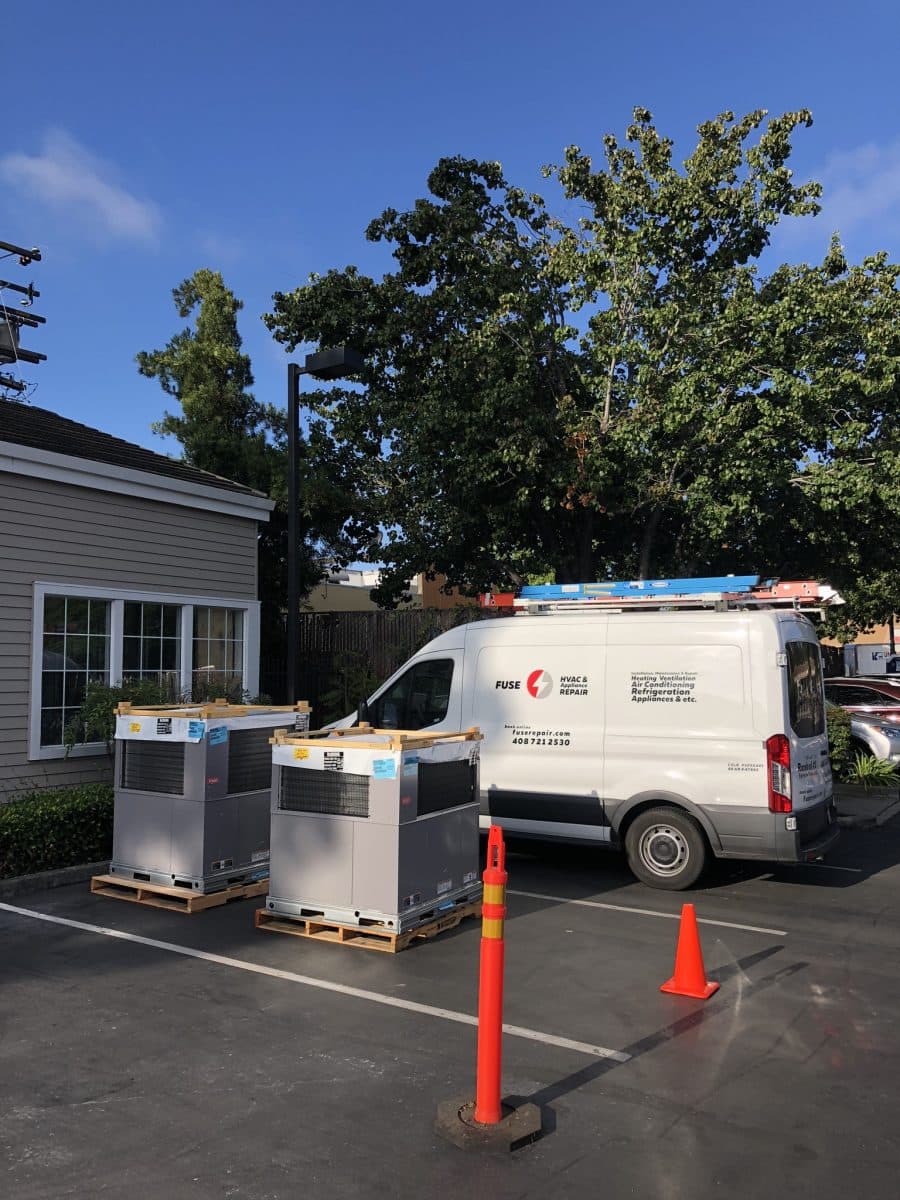 We service and install every type of system available for home heating and cooling in San Jose, California and surrounding area from the most common to the most complex. So our vast experience as HVAC contractors has given us the knowledge and experience to confidently offer the right installation or replacement for your HVAC.
Need Your Rooftop Unit Installed or Fixed? Call Our Nearby Experts!
We go the extra mile with our clients to make sure they receive  utmost in care and service from our team. So we're proud that we have 5-star ratings on Yelp and Google and amazing reviews from our customers. Moreover we love feedback and we love our customers! It's our goal to build lasting relationships with our clients by providing them with unparalleled service whenever we're needed.
Do you want trustworthy heating technicians? Look no further. With years of experience in the HVAC industry and countless satisfied clients, there's no reason to doubt our expertise. Apart from heating systems, we also repair appliances like ovens. Similarly, we offer heating solutions to commercial and industrial buildings. Even if your unit is running normally, you can call us for routine maintenance.
Business Information:
Fuse HVAC, Refrigeration, Electrical & Plumbing
3314 Victor Street, Santa Clara, CA 95054
408-721-2530
Cooling Services:
San Jose AC Repair | Fremont AC Repair | Mountain View AC Repair | Milpitas AC Repair | Palo Alto AC Repair | Cupertino AC Repair | Gilroy AC Repair | Newark AC Repair | Morgan Hill AC Repair | Campbell AC Repair | Menlo Park AC Repair | Los Gatos AC Repair | Los Altos AC Repair | Santa Clara AC Repair | Sunnyvale AC Repair | San Jose Commercial HVAC | San Jose Ductwork Installation
Heating Services:
 Fremont Furnace Repair | Mountain View Furnace Repair | Milpitas Furnace Repair | Palo Alto Furnace Repair | Cupertino Furnace Repair | Newark Furnace Repair | Morgan Hill Furnace Repair | Campbell Furnace Repair | Menlo Park Furnace Repair | Los Gatos Furnace Repair | Los Altos Furnace Repair | Santa Clara Furnace Repair | Sunnyvale Furnace Repair
Other Services: