Water Softener Install in Los Altos, California
Our qualified technicians performed a water softener install in Los Altos. In California, hard water is a common problem that affects many households. Hard water can cause a variety of issues, such as dry skin and hair, stains on clothes and dishes, and damage to plumbing and appliances. Installing a water softener can help alleviate these issues by removing the minerals that cause hardness from the water, resulting in softer and better-tasting water for your home. To get your softener today, contact our professional plumbers and forget about this issue forever!
How Do You Perform Water Softener Install?
If you're experiencing problems with hard water in your home or business in California, a water softener can be a game changer. Hard water can cause issues with your pipes, appliances, and skin. At Fuse Service, we offer professional water softener installation services to help you solve these problems. The first step is to turn off the water supply and cut the pipe where the softener will be installed. Then, install the necessary fittings, such as bypass valves, inlet and outlet valves, and a drain line. After the fittings are installed, the softener unit can be connected and secured. Finally, the brine tank and resin tank should be filled and the system should be flushed to remove any air pockets. It is recommended to hire a professional plumber to ensure proper installation and avoid any potential issues.
Qualified and certified specialists provided this water softener install.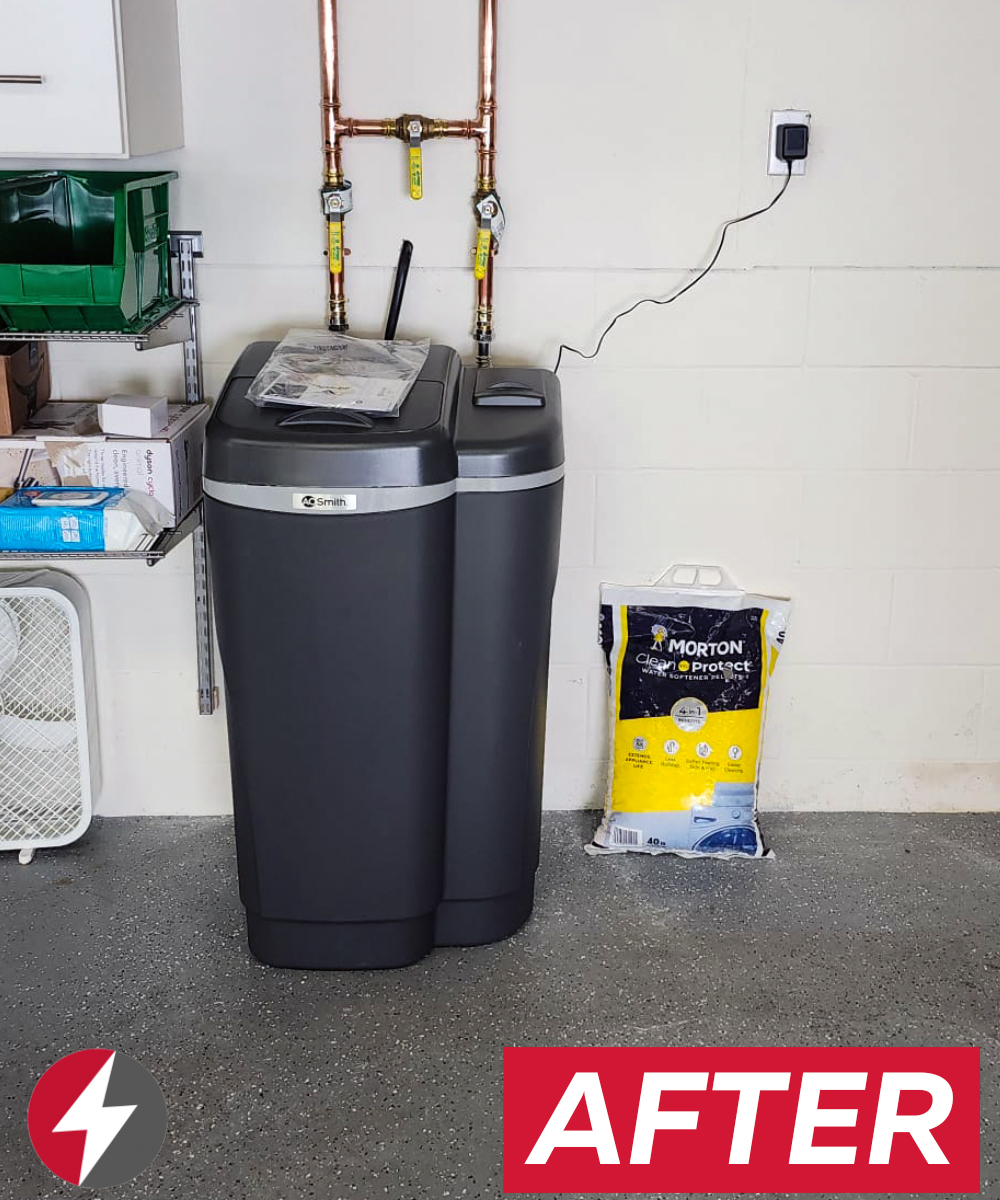 As an illustration of our work you can check out what the customers say about our HVAC services on Yelp:
Read Clara C.'s review of Fuse HVAC, Refrigeration, Electrical & Plumbing on Yelp
Read Lu C.'s review of Fuse HVAC, Refrigeration, Electrical & Plumbing on Yelp
In addition, we can help you, if you need other plumbing services, for example:
Water Heater Installation, Repair and Replacement;
Tankless Water heater Installation and Repair;
Plumbing Pipe Installation, Service and Repair;
Leak Detection and Repairs;
Water Line Installation, Repair and Service;
Sewer Installation, Service and Repair;
Drain Installation, Service and Repair, Cleaning;
Main Shut Off Replacement;
Plumbing Annual Maintenance;
Gas line Installation, Service and Repair;
Fixtures Installation, Service and Repair;
Toilets Installation and Repair;
Facets Installation and Repair;
Water Services.
About Fuse
Fuse HVAC, Refrigeration, Electrical & Plumbing was founded in 2007. So the company headquarter location is San Jose, California. Besides the company has a network of geographically distributed offices across the country. Fuse HVAC, Refrigeration, Electrical & Plumbing is an official authorized dealer of Bryant, as well as a Mitsubishi Diamond Elite Contractor. So we provide HVAC installation and repair services, electrical services, plumbing services and refrigerating services. Certainly Fuse provides warranty for labor and parts: 12 months for repair labor, besides we provide up to 3 years warranty for labor for HVAC-installations.
Also, our company provides same-day service, 7 days a week for residential, commercial and industrial HVAC installation, similarly we provide service for HVAC repair. Most importantly the technicians of the company are knowledgeable professionals with outstanding skills in installation and repairing all brands and models of all major HVAC systems.
In conclusion, we pride ourselves on being the best HVAC, Refrigeration, Electrical & Plumbing service in the country!